Hey, Mystic Mama--are you ready to get spiritual with your little ones? If so Kin Craft is the fun, creative, and supportive resource you need to get started!
Join my family and I as we cast spells, build altars, practice kinetic magick, and dance our way through the creation of a shared family practice that's as soulful as it is silly.
Whether you're a seasoned mystic mama or you're just dipping your toes into the world of woo, this course provides everything you need to cultivate a beautiful spiritual environment for you and your people!
We offer this gift to you with a genuine wish that its resources inspire the same closeness, growth, and transformation that they have in us!
Want a Sneak Peak? Watch my kiddo chat with deity!


Through Kin Craft, you will learn...
~ How make space for your family in your personal spiritual + magickal practice
~ How to speak through deity to build openness and trust between you and you kid(s)
~ How to build collective family intentions naturally + organically
~How to share and teach important spiritual values without dogma or indoctrination


~How to follow your kid's lead when it comes to magick + spellcasting so it reflects who they are
~How to lend spiritual context to interests and activities that your child is already engaged in


~How to integrate magick into everyday life and make the most of the time you share with your family!


Through Kin Craft, you will receive...
~ Playful, dynamic yoga flows for kids that are designed and taught by a certified yoga instructor!
~ An imagination station complete with an evening reverie meditation and visually stimulating audio journeys!
~ Kid altar craft, spell potion, grimoire, and family magick box tutorials!
~ Advice for empowering your family to develop a healthy, resonant spiritual practice
~Heartfelt wisdom, guidance, and insight from a mama who's been there!
Kin Kraft Curriculum--Here's What We'll Be Exploring!
~ Parents who practice witchcraft, mindfulness, spellcraft, paganism, and/or alternative spiritual practice and are looking for tips, approaches, and methods for sharing these practices with their kids
~ Kids who are interested in craft, play, and creativity and enjoy learning from peers!
~ Parents looking for advice and guidance from a fellow parent who understands the challenge of nurturing independence and uniqueness in children while teaching them practices and ideas that support their growth and thriving
~ Teens who are in the process finding themselves and their unique spirituality
~ Solitary witches or adult families--the course is lovingly + intentionally crafted as a resource for parents with primary school-aged children
~Families who are uninterested in magick, spellcraft, + pagan perspectives


Why should you invest in Kin Craft?
~ As far as I know, this is the only course of its kind. If you're looking for a gentle, creative, and fun approach to making magick + spiritual practice a family affair, this is the educational resource!
~ My family and I are approachable and unpretentious--we don't perpetuate unrealistic standards or expectations. My daughter does some videos in her pajamas, and our outfits and decor aren't perfectly arranged and coordinated. In other words, we're a real family just like you!
~The resources offered through this course are approachable, accessible, and easily adaptable to you and your family's needs. You don't need to have an in-depth knowledge of magick + spellcraft to benefit from them, and kids who have zero knowledge of craft will sincerely enjoy what the course has to offer!
~The creation of this course was an act of family magick and it is an honest expression of the spirituality we share. I didn't force my daughter to use traditionally "witchy" materials in her spellcraft video. I didn't encourage her to write spells in her grimoire, because that's not how she uses that book. I didn't "witch it up" so that it could reflect a current aesthetic. It reflects us just as your family's shared spirituality should reflect you.
We created this course for the families out there who are drawn to alternative spiritual practices and are looking for a way to create and play together mindfully, meaningfully, and mystically. We've pulled out all of the stops for you, and we hope your family is well-served through Kin Craft!
I've been both a mama and a witch for the past seven years, and in that time I've tried and tested fun, insightful, and creative ways to incorporate my husband and my kiddo into my practice. This course is the distillation of that experimentation and experience, and my family and I are delighted to share it with you!
I'm also a certified secondary school teacher and I've worked with kids ages six through eighteen in an instructional context. The resources, practices, and methods shared through Kin Craft are kid-tested and approved--you and your fam are in experienced, capable hands!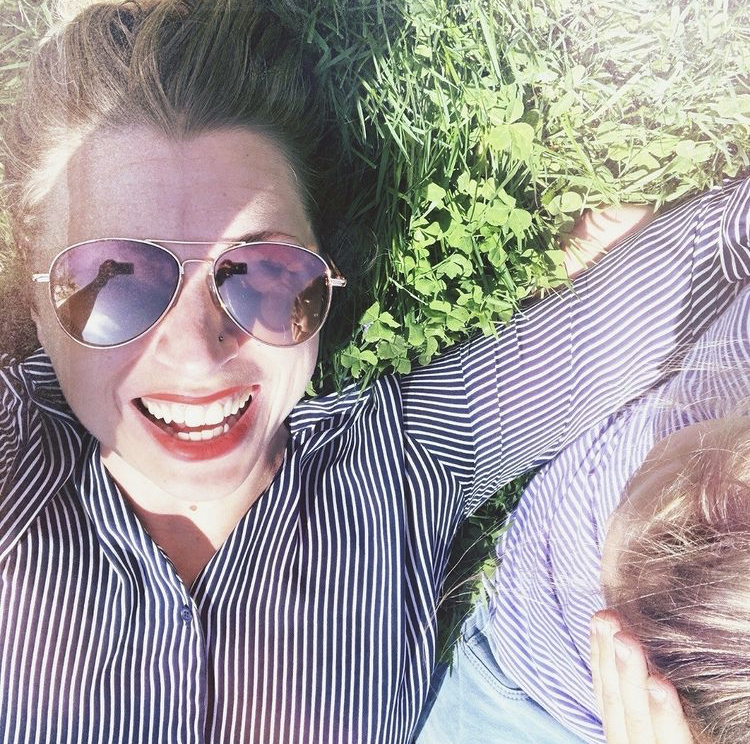 Want to Take Your Magick to New and Exciting Places? Enroll in the Spell Bound Academy!